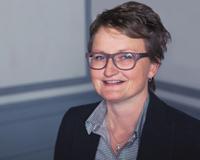 As a former Project Manager and Sales & Marketing executive with over 25 years of both national and international experience, Barb brings that same discipline, focus, expertise and skill set that made her successful in a corporate world, on a personal level at SPACE & COMPANY.

Barb has lived in and around the Philadelphia area for over 25 years and has a keen eye for real estate. She spent two years as a Director of the Northern Liberties Neighborhood Association Board of Directors, and eight years on the Northern Liberties Zoning committee, providing feedback and approval for countless real estate projects. During this time, Northern Liberties virtually transformed from a true mixed use environment (commercial, industrial and residential stitched together) to a mostly residential & commercial neighborhood that has managed to maintain its identity.

Whether you are looking for a new home, want to sell your existing home, looking for an investment property, or land to build on, Barb is eager to put her background, experience and wide array of resources to use to help you make the decision that is right for you and guide you through the process efficiently and effectively.
Send Barb a Message